Wrapping Up the Holidays 2019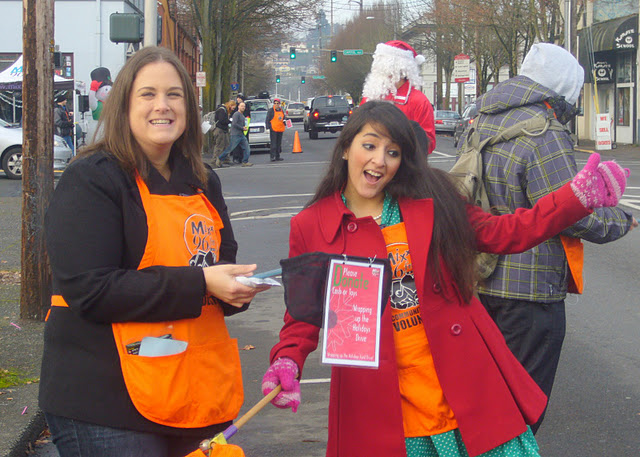 THANK YOU! THANK YOU! YOU RAISED $17,601.59 AND LOTS OF TOYS! IT'S NOT TOO LATE TO DONATE ONLINE BELOW!
Please open your hearts to the local children who need your help this holiday season! KXXO Mixx 96.1's Wrapping up the Holidays Toy & Fund Drive at the corner of State and Washington in downtown Olympia is Friday, December 20 6am-6pm! Thanks to O Bee Credit Union, who will match the first $2,500 donated; The Roof Doctor, who will match $2000; as well as the law firm of Althauser Rayan Abbarno in Olympia and Centralia, True Alignment Chiropractic, Van Dorm Realty, and G&G Heating and Air Conditioning, who will each make $1000 matches.
You can donate by clicking on the button below!
Wrapping Up the Holidays Specific Needs
Children's toys and games, preferably new and unwrapped.
Art supplies, including crayons, pencils, play-doh, & drawing pads.
Infant clothing, new or gently used. Warm baby clothing for the winter is especially needed.
Disposable diapers are a great donation, as are gift certificates.
Books and music of all types, maybe a movie pass! Teens particularly often are ignored when families are in severe need. Many teens from low-income families are working, not for "mall money," but to help buy food and pay rent for their families!
Bicycles, in almost any condition. Many of the agencies involved have volunteers who can do repairs, and just about every kid dreams of finding a bike under the tree!
Coats and jackets, gloves, hats, and scarves, in new or excellent used condition. All sizes are needed from infant to adult. (Many older kids wear adult sizes and moms and dads need warm things too!)
Gift certificates for grocery items. Most stores will let you specify food items only, if you wish.
Call Toni at 360-943-9937 if you'd like to volunteer to help! Click here for more info.
Where does the money go? What if I know someone who needs help? This year we're working the Holiday Connection (a coalition of local social service agencies) and Barb's Family and Friends.
The overhead for this drive is borne by the station; 100% of the money collected goes directly to families. All the groups involved pledge to use 100% of the donations to meet the needs of their client families.
Checks can me made out to "KXXO Mixx96 Community Fund" or to any of the specific agencies:
Holiday Connection
Barb's Family and Friends
100% of everything donated is given to families in our local area. We will funnel any specified donations from other counties to agencies with clients in that area.
RECIPIENT AGENCY INFORMATION
The Holiday Connection is a coalition of local service agencies who direct the holiday needs of their clients to a clearing center that tries to match donor and recipients. The Holiday Connection funnels donations from our drive and other sources to families with last-minute emergency needs including children and elders not adopted by giving trees or other organizations. The Holiday Connection also strives to work with families in need to match them with appropriate agencies if there are other family needs such as energy assistance, job training, housing, etc. 100% goes to families in need.
These local agencies are:
BHR Adult Division
BHR Kids Division
BHR – Recovery
Community Youth Services
Evergreen Vista
Family Education and Support Services
Family Support Center
Senior Services of South Sound
YMCA Children's Services
Thurston County Food Bank
Barb's Family & Friends, a group started by long-time local citizen Barb O'Neill, provides a free Community Christmas Dinner. Barb is no longer living, but the tradition continues in her memory. More than just dinner, the group provides holiday companionship and last-minute gifts for those with nowhere else to go. Families coming to the dinner can work with the group to pick toys or gifts for their children and wrap them on-site, ensuring something under the tree for every child Christmas morning. Donations go to the dinner and to families in need. Contact 360-485-9931.
Call us if you have any additional questions! KXXO Mixx 96.1, 360-943-9937