Click on plus sign for photos & fun facts
Ann D'Angelo - Mornings / News Director
Weekdays 5:30-noon & Sat 6-10am
I was raised an Air Force "brat" and after our family was stationed here in the Puget Sound area three times, my folks retired in the South Sound, and I certainly wouldn't want to live anywhere else … well, except maybe Maui!
My husband and I have raised five kids and they are all awesome young adults with whom we love spending time.  We currently share our home with little Beni, a Havanese/Poodle mix. He is a very sensitive, sweet pup and loves to snuggle.  Houdini is a gray tabby. He sleeps about 18 hours a day, but he gives really great hugs!
I love being in nature, whether in the woods, mountains or on a beach.  I love to garden and I love photography. I started my photography business several years ago and you can find me on FB @ Ann D'Angelo photography or my website www.anndangelophotography.com
It's wonderful thing when you get to do something you love and I've been fortunate to have a job I love for a very long time!
Thanks for listening to KXXO Mixx 96.1!
Ty Flint - Mornings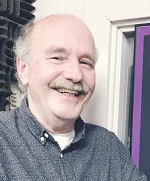 Weekdays 5:30-noon & Sat 6-10am
Ty Flint started his broadcasting career as a Tumwater High student working with Dick Pust at KGY. He went on to become a Seattle radio mainstay at stations such as KJR and KUBE, where he co-hosted the popular "Charlie and Ty" show in the '80s and '90s. Eventually, he moved on to Phoenix and then New York. Now he's back where he began, living on Olympia's Eastside and co-hosting the "Good Morning Mixx" with Tacoma's Ann D'Angelo. In his spare time, Ty and his partner like antiquing and exploring the smaller communities in the South Sound. He has a model bus collection!
Anna Winter - Afternoons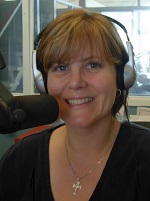 Anna Winter
I am a true Pacific Northwesterner – born and raised in Tacoma, right here in the beautiful South Sound. I graduated from Foss High School and Whitman College. I moved back to Tacoma after college and am proud to have raised my son here as well. When I'm not at work, I spend time with family and have volunteered with some great organizations including PTA and Safe Street. I like to spend time outside – hiking, camping, and kayaking. I'm also a ham radio operator, an activity my husband and I enjoy together. I first became interested in radio while at college. Although I majored in social sciences, I also had a show on the college's radio station. It was more fun than I could have imagined, and I was hooked! I eventually studied broadcasting at Clover Park Technical College and landed my first "real radio job" here at KXXO Mixx 96.1 in the mid-1990s! Although I went on to work at a few other terrific stations, I'm happy to call KXXO "home" again.
Jennifer Mathis - Weekends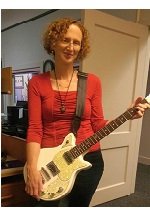 Jennifer Mathis -Weekends
I've been in radio for many, many years (most of that at KXXO Mixx 96.1) after graduating from the radio broadcasting class at Bates Vocational Tech in Tacoma. I'd originally planned to be a veterinarian but decided to try radio after having several people tell me I'd never be any good at it. (Editor's Note: As you can hear, don't ever tell Jennifer she can't do something!)
I enjoy living here in Olympia because the people are so genuine. It doesn't matter here if you're not mainstream, people don't even look at you twice.
I'm a two-time breast cancer survivor, a tried and true redhead, and SuperMommy to two young men, a spouse, and our dog Patriot.
Dick Pust - Weekends / Public Affairs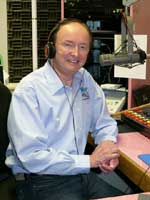 Conversations with Dick Pust Saturdays 8-8:30am and It's Your Community 9-9:30am 
Olympia grew up listening to Dick Pust chatting with candidates for local office and representatives from almost every community group one could imagine. Pust returns to what he does best with "Saturday Morning Conversation," talking with candidates and local businesses (Buy Local!) and "It's Your Community," talking over the issues facing the Olympia area with the people who know the most about them."Saturday Morning Conversation with Dick Pust" Saturdays at 8am and "It's Your Community" Sundays at 9am.
Jeff Hirschberg - Evenings / Billing-Traffic / Web-Tech Wizard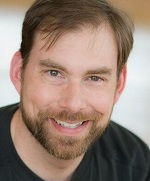 Jeff Hirschberg
I grew up on the mean streets of Hoquiam, where I developed a hardcore computer gaming habit and a love for music and schlocky horror films. I headed south to graduate school in Santa Cruz, CA, where I helped design and build Kestrel, a parallel computer for genetic sequence analysis. Burned out on school and perpetual sunshine, I returned to Washington and became a corporate drone, writing software to test designs for the world's largest chip maker. After 10+ years of soul sucking, I fell in love with the idea of being broke and decided to become a voice actor. I quickly realized I knew nothing about acting, so I began to study and perform, and eventually write, and I even made a little money doing it. Now I work as an actor, voiceover artist, writer, computer guy, and whatever else comes along, building my media empire from home in Yelm, close to family and my fabulous girlfriend Anita.
Chris Wojcik and Harmon Shay - Freeway Hero Traffic Reports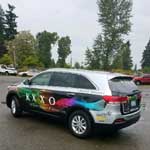 Harmon Shay and Chris Wojcik – Freeway Hero Traffic Reports 5:30-9am and 3:30-6pm
Harmon is a radio veteran, having worked all over the dial. He lives in booming Tacoma and loves trains.
Woj: I was brought up right here in Western Washington, on the mean streets of Marysville. (Ok, the only thing mean about those streets back then was the stench from the cow fields nearby!) I'm a Y2K graduate of Marysville-Pilchuck High School. My radio fun began my sophomore year of high school, when I landed a gig at 1380 KRKO in Everett. From there after graduation, I spent a few awesome years at Seattle's KUBE 93. I then went over to Spokane for almost four years to be on the radio there, but became homesick for Seattle again. I was fortunate to come back home to the west side and become one of the original DJ's at 100.7 The Wolf. Yet, somewhere in the midst of all that, I fell into traffic reporting and here I am now with you at KXXO Mixx 96.1! I also totally love to surf, so I head out to our beautiful coast every chance I can to ride the waves!
Brian Butler - Sales Manager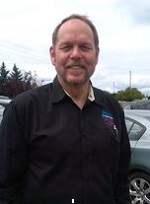 Brian Butler – Sales Manager
Would you buy a used car from this man?
That's good, because I don't sell used cars!
I grew up imitating '60s Top 40 jocks which had absolutely nothing to do with landing in radio. Since 1979 I've been working with businesses to develop effective marketing campaigns utilizing radio and other mediums. I'm a member of the founding staff of KXXO Mixx 96.1 and bring over three decades of marketing and promotion experience in the Southwest Washington market to businesses.
In my spare time I enjoy playing with my wife Penny in the great Northwest outdoors as a skier, windsurfer, and mountain bike enthusiast. Write me at bb@mixx96.com
Toni Holm and David Rauh - Station Owners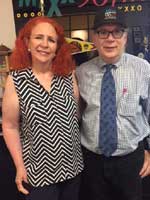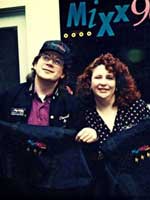 Toni Holm and David Rauh – Station Owners
As college students in Olympia, Toni Holm & David Rauh dreamed of owning and running their own radio station. And, after a decade of trials & tribulations, they made it so! KXXO Mixx 96.1 went on the air January 16, 1990. Toni is the station manager and David is the General Manager.
John Foster - Program Director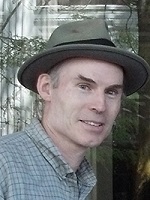 John Foster – Program Director
Hi. I'm responsible for the music and DJs. It's almost as fun as it sounds and a privilege to work with such talented people. My passions are playing basketball, listening to music (obviously), following sports (Go Storm!, etc.), reading, and spending time with my family: Dana (an artist and teacher, my beloved partner since 1979), Kajaat (a nanny), Rama (a social butterfly and stock clerk), our four cats, and our big dog Noa. I love living in Olympia. Write me at jsf@mixx96.com with any suggestions, compliments, or complaints.
Tim Vik - Engineer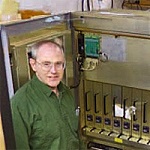 Tim Vik – Engineer
Tim is hardy, adventurous, and brilliant – a good combination for a radio broadcast engineer in the unpredictable Great Northwest! He has gone to great lengths to keep us on-the-air through great adversity – including the time the transmission tower fell over in the '90s (not his fault!). Sometimes he would have to snowshoe up to our old tower site on Rooster Rock. He works 20-hour days without complaint and will meet an unexpected challenge with an "Oh yay!" when most of us would scream in frustration and rage.
Mobile Mixx Promotions Team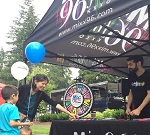 Promotions Team
These are the folks who set up and tear down the tent, talk you into spinning the prize wheel or entering for a beach weekend, troubleshoot why the PA isn't working, and generally run things at fairs and festivals or while the announcer is interviewing clients for a live broadcast. They're generally college students or trusted friends of the station who will do whatever needs to be done with a smile!