Click on plus sign for photos & fun facts
Ann D'Angelo - Mornings / News Director
Weekdays 5:30-noon & Sat 6-10am
I was raised an Air Force "brat" and after our family was stationed here in the Puget Sound area three times, my folks retired in the South Sound, and I certainly wouldn't want to live anywhere else … well, except maybe Maui!
My husband and I have raised five kids and they are all awesome young adults with whom we love spending time.  We currently share our home with little Beni, a Havanese/Poodle mix. He is a very sensitive, sweet pup and loves to snuggle.  Houdini is a gray tabby. He sleeps about 18 hours a day, but he gives really great hugs!
I love being in nature, whether in the woods, mountains or on a beach.  I love to garden and I love photography. I started my photography business several years ago and you can find me on FB @ Ann D'Angelo photography or my website www.anndangelophotography.com
It's wonderful thing when you get to do something you love and I've been fortunate to have a job I love for a very long time!
Thanks for listening to KXXO Mixx 96.1!
Ty Flint - Mornings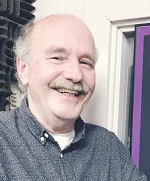 Weekdays 5:30-noon & Sat 6-10am
Ty Flint started his broadcasting career as a Tumwater High student working with Dick Pust at KGY. He went on to become a Seattle radio mainstay at stations such as KJR and KUBE, where he co-hosted the popular "Charlie and Ty" show in the '80s and '90s. Eventually, he moved on to Phoenix and then New York. Now he's back where he began, living on Olympia's Eastside and co-hosting the "Good Morning Mixx" with Tacoma's Ann D'Angelo. In his spare time, Ty and his partner like antiquing and exploring the smaller communities in the South Sound. He has a model bus collection!
Cari Palmer - Afternoons
Weekdays noon-7pm
A while ago, I received the best compliment ever.
Before I left my last radio position, the guy who followed my mid-day shift was waiting outside the studio. When my shift was over, he said to me, "I think you are the strongest woman I've ever met!" Yee haw – he had no idea how good this felt to hear. I had to chuckle because if he knew me 20 years earlier, he would have believed the complete opposite!
Reading the journals I kept from many years ago, it's almost impossible to believe the woman who did the writing was me! Honestly, if the woman I was at 30 years old were in a room with the woman I am today, she would be scared to death of me.
Because I found a way to turn my life completely around, I took a sabbatical from radio. I felt it was my responsibility to share my story with others who could benefit from it. I started a blog www.caripalmer.com with post after post detailing my thoughts and my journey. Today, I have hundreds and hundreds of pages written.
The time was right to come back home to KXXO Mixx 96.1. My little girl is now off to WSU. Working afternoons fits perfectly with my life and my continuing to write in the mornings.
I hope to inspire and energize you each and every afternoon. If you need a boost of strength in any shape or form, feel free to reach out: cari@mixx96.com or 360-943-9696.
Anna Winter - Afternoons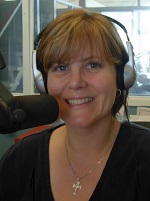 Anna Winter
I am a true Pacific Northwesterner – born and raised in Tacoma, right here in the beautiful South Sound. I graduated from Foss High School and Whitman College. I moved back to Tacoma after college and am proud to have raised my son here as well. When I'm not at work, I spend time with family and have volunteered with some great organizations including PTA and Safe Street. I like to spend time outside – hiking, camping, and kayaking. I'm also a ham radio operator, an activity my husband and I enjoy together. I first became interested in radio while at college. Although I majored in social sciences, I also had a show on the college's radio station. It was more fun than I could have imagined, and I was hooked! I eventually studied broadcasting at Clover Park Technical College and landed my first "real radio job" here at KXXO Mixx 96.1 in the mid-1990s! Although I went on to work at a few other terrific stations, I'm happy to call KXXO "home" again.
Jennifer Mathis - Evenings & Saturday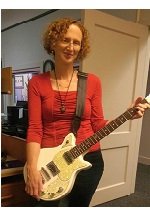 Jennifer Mathis -Weekdays 7pm-midnight and Saturdays 10am-3pm
I've been in radio for many, many years (most of that at KXXO Mixx 96.1) after graduating from the radio broadcasting class at Bates Vocational Tech in Tacoma. I'd originally planned to be a veterinarian but decided to try radio after having several people tell me I'd never be any good at it. (Editor's Note: As you can hear, don't ever tell Jennifer she can't do something!)
I enjoy living here in Olympia because the people are so genuine. It doesn't matter here if you're not mainstream, people don't even look at you twice.
I'm a breast cancer survivor, a tried and true redhead, and SuperMommy to two young men, a spouse, and our dog Patriot.
Warren Fazio - Air Talent
Warren Fazio
I am a psychology grad, aspiring morning-show host, and dedicated hockey fan. The youngest of the KXXO Mixx 96.1 radio family, my journey began at KXXO after graduating from high school in 2013. Initially hoping to become an engineer, I quickly realized that complex mathematical equations are not my strong suit and that my passion was being behind the mic. I pestered the powers that be enough to let me be on the air, and I've been spending time with you on the other side of the radio ever since. I've worked hard to get to know individual listeners and the unique community in which we live here in the South Sound.
Tip Felts - Announcer
I started my adventures in broadcasting in 1990 as a freshman at Timberline High School in Lacey. I started interning at the former KQ92 – AM 920, and six months later, finally got on payroll after management determined I wasn't going away quietly. After five years on the air as a DJ, sports reporter, and news reporter, I made my way to Tacoma to work as an engineer/board operator at KHHO – AM 850 with morning mixxer Ann D'Angelo. Eventually I branched into the video world of broadcasting, working in the TV departments at Emerald Downs, Fox Sports Northwest, Seattle Mariners, and the Seattle Sonics (RIP) and Storm. Now, besides KXXO Mixx 96.1, I get sent all over the world to do tech for gamer conventions!
Dick Pust - Weekends / Public Affairs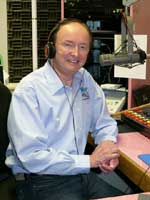 Conversations with Dick Pust Saturdays 8-8:30am and It's Your Community 9-9:30am
Olympia grew up listening to Dick Pust chatting with candidates for local office and representatives from almost every community group one could imagine. Pust returns to what he does best with "Saturday Morning Conversation," talking with candidates and local businesses (Buy Local!) and "It's Your Community," talking over the issues facing the Olympia area with the people who know the most about them."Saturday Morning Conversation with Dick Pust" Saturdays at 8am and "It's Your Community" Sundays at 9am.
JJ Syrja - Sundays
JJ Syrja Sundays 10am-3pm
I grew up in Michigan and spent several years in Texas where I got my first radio job in 1980. I moved to the Olympia area in 1993, where I work for our local Timberland Library system.
For fun, I like being on KXXO Mixx 96.1, doing community radio (KAOS) in Olympia, collecting music, catching movies at the Olympia Film Society, and following Mariners baseball.
My wife Gina and I have three daughters between us: Mirelle, Emily, and Ina. They are smart young women and a blast to hang out with.
Jeff Hirschberg - Air Talent / Billing-Traffic / Web-Tech Wizard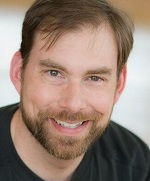 Jeff Hirschberg
I grew up on the mean streets of Hoquiam, where I developed a hardcore computer gaming habit and a love for music and schlocky horror films. I headed south to graduate school in Santa Cruz, CA, where I helped design and build Kestrel, a parallel computer for genetic sequence analysis. Burned out on school and perpetual sunshine, I returned to Washington and became a corporate drone, writing software to test designs for the world's largest chip maker. After 10+ years of soul sucking, I fell in love with the idea of being broke and decided to become a voice actor. I quickly realized I knew nothing about acting, so I began to study and perform, and eventually write, and I even made a little money doing it. Now I work as an actor, voiceover artist, writer, computer guy, and whatever else comes along, building my media empire from home in Yelm, close to family and my fabulous girlfriend Anita.
Chris Wojcik and Harmon Shay - Freeway Hero Traffic Reports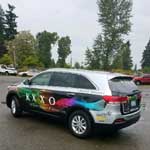 Harmon Shay and Chris Wojcik – Freeway Hero Traffic Reports 5:30-9am and 3:30-6pm
Harmon is a radio veteran, having worked all over the dial. He lives in booming Tacoma and loves trains.
Woj: I was brought up right here in Western Washington, on the mean streets of Marysville. (Ok, the only thing mean about those streets back then was the stench from the cow fields nearby!) I'm a Y2K graduate of Marysville-Pilchuck High School. My radio fun began my sophomore year of high school, when I landed a gig at 1380 KRKO in Everett. From there after graduation, I spent a few awesome years at Seattle's KUBE 93. I then went over to Spokane for almost four years to be on the radio there, but became homesick for Seattle again. I was fortunate to come back home to the west side and become one of the original DJ's at 100.7 The Wolf. Yet, somewhere in the midst of all that, I fell into traffic reporting and here I am now with you at KXXO Mixx 96.1! I also totally love to surf, so I head out to our beautiful coast every chance I can to ride the waves!
Brian Butler - Sales Manager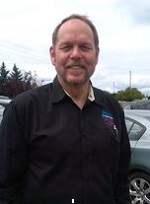 Brian Butler – Sales Manager
Would you buy a used car from this man?
That's good, because I don't sell used cars!
I grew up imitating '60s Top 40 jocks which had absolutely nothing to do with landing in radio. Since 1979 I've been working with businesses to develop effective marketing campaigns utilizing radio and other mediums. I'm a member of the founding staff of KXXO Mixx 96.1 and bring over three decades of marketing and promotion experience in the Southwest Washington market to businesses.
In my spare time I enjoy playing with my wife Penny in the great Northwest outdoors as a skier, windsurfer, and mountain bike enthusiast. Write me at bb@mixx96.com
Sheryl Miner - Marketing Consultant
Sheryl Miner – Marketing Consultant
I grew up in Centralia but have lived in Seattle and Southern California. I love Olympia, however, because of its size and close proximity. I came back here to raise my children in a small town atmosphere. I now have three grown children who have spread far and wide across the country.
I started out as a "Loyal Listener" and heard that they were looking for an advertising executive. I applied for that position, and I guess my enthusiasm helped get me the job. I love the station and I know a lot of other people do too. I hear it everywhere I go! I have to believe in what I am selling and that's great because I know our listeners and advertisers do too!
I believe in helping businesses grow and be successful; it is the only way that I will feel successful. Let me help you grow your business with a radio plan that will let listeners know what you do! Write me at sdm@mixx96.com.
Rilee Viggers - Marketing Consultant/Social Media Specialist
Rilee Viggers – Marketing Consultant/Social Media Specialist
I was born and raised in the Pacific Northwest, and graduated from Central Washington University focusing on Public Relations and Event Planning Management. During my time at Central, I discovered my love for social media management, and helping small businesses better their online image. 
Fast forward to today and I have now fully grasped the weight of transforming a business's online presence, and love doing so. It's such a rewarding feeling helping a busy business owner promote their brand online, and driving engagement to their website and social media platforms. 
When I'm not creating branded content, you can find me traveling, hiking, or doing some other activity while enjoying the great outdoors. Email me at rilee@mixx96.com
Toni Holm and David Rauh - Station Owners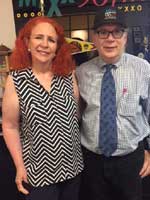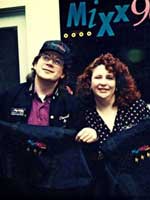 Toni Holm and David Rauh – Station Owners
As college students in Olympia, Toni Holm & David Rauh dreamed of owning and running their own radio station. And, after a decade of trials & tribulations, they made it so! KXXO Mixx 96.1 went on the air January 16, 1990. Toni is the station manager and David is the General Manager.
John Foster - Program Director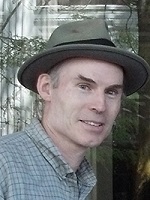 John Foster – Program Director
Hi. I'm responsible for the music and DJs. It's almost as fun as it sounds and a privilege to work with such talented people. My passions are playing basketball, listening to music (obviously), following sports (Go Storm!, etc.), reading, and spending time with my family: Dana (an artist and teacher, my beloved partner since 1979), Kajaat (a nanny), Rama (a social butterfly and stock clerk), our four cats, and our big dog Noa. I love living in Olympia. Write me at jsf@mixx96.com with any suggestions, compliments, or complaints.
Tim Vik - Engineer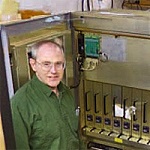 Tim Vik – Engineer
Tim is hardy, adventurous, and brilliant – a good combination for a radio broadcast engineer in the unpredictable Great Northwest! He has gone to great lengths to keep us on-the-air through great adversity – including the time the transmission tower fell over in the '90s (not his fault!). Sometimes he would have to snowshoe up to our old tower site on Rooster Rock. He works 20-hour days without complaint and will meet an unexpected challenge with an "Oh yay!" when most of us would scream in frustration and rage.
Aurora, Sydney, Rama - Mobile Mixx Promotions Team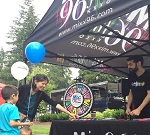 Promotions Team
These are the folks who set up and tear down the tent, talk you into spinning the prize wheel or entering for a beach weekend, troubleshoot why the PA isn't working, and generally run things at fairs and festivals or while the announcer is interviewing clients for a live broadcast. They're generally college students or trusted friends of the station who will do whatever needs to be done with a smile!