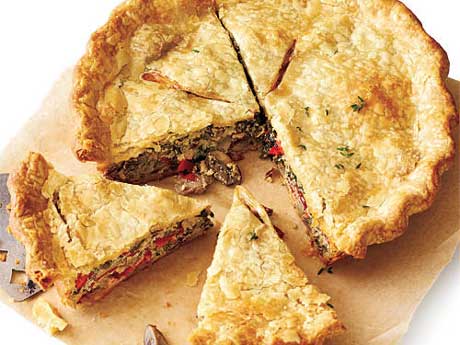 Recipe of the Week!

Pizza Rustica

This is a filling, deep-dish pie 

Prepare pastry for a two-crust savory pie dough of your choice.
Sauté finely chopped garlic in a little olive oil. Add a cup of tomato sauce. Season with salt, pepper, and a pinch of marjoram and/or oregano. Set aside.
Beat two eggs. Mix in 1 lb. ricotta, one finely chopped onion, 1 Tbsp. (or more)  chopped parsley to taste, and 1 cup grated parmesan cheese, salt and pepper.
Slice ½ lb. of mozzarella cheese.

To assemble: Spread ½ the ricotta mixture in prepared pie crust. Arrange ½ the mozzarella slices across the surface. Cover with ½ the tomato sauce. Repeat layers. Place top pie crust, poke it with a fork a few times to make steam holes, crimp edges, place in preheated 425-degree oven for 35- 40 minutes. Remove from oven and allow to rest for 20 minutes to set before cutting.